Welcome!
The Author On Running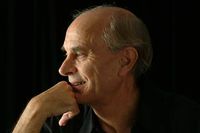 Roger Robinson's writings about running have been called "eloquent, enjoyable, entrancing, vivid, original, poetic, and crackling with wit and intelligence" - all those by reviewers and readers. 
For more on his career as one of running's most famed authors, for more on his running books currently for sale and also for his most recent articles, especially on the Running Times website. 
The Author On Literature
A leading scholar with the rare gift of communicating to regular readers, Roger Robinson is an authority especially on the English novel, on New Zealand and Pacific literature, and on the literature of running. For more on his career and publications in literature, for his literary books for sale and some recent book reviews.
My Books For Sale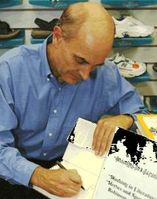 Books on running and books on literature are available to purchase by mail, personally signed, at author's rates.
The Speaker
Roger Robinson's mix of lively presentation with expert substance has entertained and inspired audiences around the world. He speaks solo, as an acclaimed MC/panel chair, or as a dynamic duo with his wife, the legendary Kathrine Switzer. For more on Roger's speaking, and for his upcoming schedule. Also please visit www.kvswitzer.com  
About Roger - The Runner and Scholar
About Roger the Runner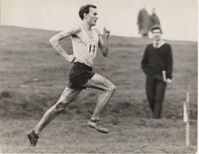 Roger Robinson represented England and later New Zealand, but he's best remembered for what he did after turning 40, winning the toughest masters races in five continents, and setting marathon records at Boston (over-40, 2:20:15) and New York (over-50, 2:28:01). For more on Robinson the Runner. 
About Roger the Scholar
Now Emeritus professor, Roger Robinson was a popular teacher and versatile scholar. His university career included service as Department Head, Dean, and Academic Vice-Chancellor, and overseeing the revision of the New Zealand schools English curriculum. He also founded journals and initiated and chaired important literary conferences. For more on Robinson the Scholar. 
Archives
For some classic RR articles  - influential, controversial, historical or comical, published in USA, New Zealand, Canada, UK and elsewhere.